Privacy Policy
jareddanielaustin.com Privacy Policy
Type of website: Ecommerce
Effective date: 1st day of June, 2023
jareddanielaustin.com (the "Site") is owned and operated by Jared Austin. Jared Austin is the data controller and can be contacted at:

jareddanielaustin.com
207 Skyline Road, Madison, AL. 35758
________________________________________
This privacy policy sets out how Jared Austin uses and protects any information that you give Jared Austin when you use this website.
Jared Austin is committed to ensuring that your privacy is protected. Should we ask you to provide certain information by which you can be identified when using this website, then you can be assured that it will only be used in accordance with this privacy statement.
Jared Austin may change this policy from time to time by updating this page. You should check this page from time to time to ensure that you are happy with any changes. This policy is effective from June 1, 2022.
Purpose
The purpose of this privacy policy (this "Privacy Policy") is to inform users of our Site of the following:
The personal data we will collect: email address, physical address, and contact details. Use of collected data; Who has access to the data collected; The rights of Site users; and the Site's cookie policy.
This Privacy Policy applies in addition to the terms and conditions of our Site.
GDPR
For users in the European Union, we adhere to the Regulation (EU) 2016/679 of the European Parliament and of the Council of 27 April 2016, known as the General Data Protection Regulation (the "GDPR"). For users in the United Kingdom, we adhere to the GDPR as enshrined in the Data Protection Act 2018.

We have not appointed a Data Protection Officer as we do not fall within the categories of controllers and processors required to appoint a Data Protection Officer under Article 37 of the GDPR.
Consent
By using our Site users agree that they consent to:
The conditions set out in this Privacy Policy.
When the legal basis for us processing your personal data is that you have provided your consent to that processing, you may withdraw your consent at any time. If you withdraw your consent, it will not make processing which we completed before you withdrew your consent unlawful.
You can withdraw your consent by: By unsubscribing or via contact form.
Legal Basis for Processing
We collect and process personal data about users in the EU only when we have a legal basis for doing so under Article 6 of the GDPR.

We rely on the following legal basis to collect and process the personal data of users in the EU:
Users have provided their consent to the processing of their data for one or more specific purposes.
Personal Data We Collect
We only collect data that helps us achieve the purpose set out in this Privacy Policy. We will not collect any additional data beyond the data listed below without notifying you first.
We require this information to understand your needs and provide you with a better service, and in particular for the following reasons:
We periodically send promotional emails and SMS about new products, special offers or other information which we think you may find interesting using the email address and/or phone number which you have provided to us.
Data Collected Automatically
When you visit and use our Site, we may automatically collect and store the following information:
Location; Clicked links; Visited pages; Abandoned carts; Abandoned checkouts
How We Use Personal Data
Data collected on our Site will only be used for the purposes specified in this Privacy Policy or indicated on the relevant pages of our Site. We will not use your data beyond what we disclose in this Privacy Policy.

The data we collect automatically is used for the following purposes:
Statistics.
Who We Share Personal Data With
Employees
We may disclose user data to any member of our organization who reasonably needs access to user data to achieve the purposes set out in this Privacy Policy.
Other Disclosures
We will not sell or share your data with other third parties, except in the following cases:
If the law requires it; if it is required for any legal proceeding; to prove or protect our legal rights; and to buyers or potential buyers of this company in the event that we seek to sell the company.
If you follow hyperlinks from our Site to another Site, please note that we are not responsible for and have no control over their privacy policies and practices.
Links to other websites
Our website may contain links to other websites of interest. However, once you have used these links to leave our site, you should note that we do not have any control over that other website. Therefore, we cannot be responsible for the protection and privacy of any information which you provide whilst visiting such sites and such sites are not governed by this privacy statement. You should exercise caution and look at the privacy statement applicable to the website in question.
Controlling your personal information
We collect emails and phone numbers only for the purposes of sending new release and book information, not names or any other personal information apart from addresses.
You may choose to restrict the collection or use of your personal information in the following ways:
We will not sell, distribute or lease your personal information to third parties unless we have your permission or are required by law to do so. If you believe that any information we are holding on you is incorrect or incomplete, please email us as soon as possible at the above address. We will promptly correct any information found to be incorrect.
How Long We Store Personal Data
User data will be stored until the purpose the data was collected for has been achieved.

You will be notified if your data is kept for longer than this period.
How We Protect Your Personal Data
We are committed to ensuring that your information is secure. In order to prevent unauthorized access or disclosure, we have put in place suitable physical, electronic, and managerial procedures to safeguard and secure the information we collect online.

While we take all reasonable precautions to ensure that user data is secure and that users are protected, there always remains the risk of harm. The Internet as a whole can be insecure at times and therefore we are unable to guarantee the security of user data beyond what is reasonably practical.
Your Rights as a User
Under the GDPR, you have the following rights:
Right to be informed; Right of access; Right to rectification; Right to erasure; Right to restrict processing; Right to data portability; and Right to object.
Children
We do not knowingly collect or use personal data from children under 16 years of age. If we learn that we have collected personal data from a child under 16 years of age, the personal data will be deleted as soon as possible. If a child under 16 years of age has provided us with personal data their parent or guardian may contact our privacy officer.
How to Access, Modify, Delete, or Challenge the Data Collected
If you would like to know if we have collected your personal data, how we have used your personal data, if we have disclosed your personal data and to who we disclosed your personal data, if you would like your data to be deleted or modified in any way, or if you would like to exercise any of your other rights under the GDPR, please contact jared.austin1981@gmail.com  
Do Not Track Notice
Do Not Track ("DNT") is a privacy preference that you can set in certain web browsers. We do not track the users of our Site over time and across third party websites and therefore do not respond to browser-initiated DNT signals.
How to Opt-Out of Data Collection, Use or Disclosure
In addition to the method(s) described in the How to Access, Modify, Delete, or Challenge the Data Collected section, we provide the following specific opt-out methods for the forms of collection, use, or disclosure of your personal data specified below:
You can opt-out of the use of your personal data for marketing emails. You can opt-out by clicking "unsubscribe" on the bottom of any marketing email or updating your email preferences under "Your Account"
Cookie Policy
A cookie is a small file, stored on a user's hard drive by a website. Its purpose is to collect data relating to the user's browsing habits. You can choose to be notified each time a cookie is transmitted. You can also choose to disable cookies entirely in your internet browser, but this may decrease the quality of your user experience.
We use the following types of cookies on our Site:
Analytical cookies - Analytical cookies allow us to improve the design and functionality of our Site by collecting data on how you access our Site, for example data on the content you access, how long you stay on our Site, etc; Third-Party Cookies - Third-party cookies are created by a website other than ours. You can read about Shopify's Cookie Policy here. 
How we use cookies
A cookie is a small file which asks permission to be placed on your computer's hard drive. Once you agree, the file is added, and the cookie helps analyze web traffic or lets you know when you visit a particular site. Cookies allow web applications to respond to you as an individual. The web application can tailor its operations to your needs, likes, and dislikes by gathering and remembering information about your preferences.
We use traffic log cookies to identify which pages are being used. This helps us analyze data about webpage traffic and improve our website in order to tailor it to customer needs. We only use this information for statistical analysis purposes and then the data is removed from the system.
Overall, cookies help us provide you with a better website by enabling us to monitor which pages you find useful and which you do not. A cookie in no way gives us access to your computer or any information about you, other than the data you choose to share with us.
You can choose to accept or decline cookies. Most web browsers automatically accept cookies, but you can usually modify your browser setting to decline cookies if you prefer. This may prevent you from taking full advantage of the website.
Modifications
This Privacy Policy may be amended from time to time in order to maintain compliance with the law and to reflect any changes to our data collection process. When we amend this Privacy Policy we will update the "Effective Date" at the top of this Privacy Policy. We recommend that our users periodically review our Privacy Policy to ensure that they are notified of any updates. If necessary, we may notify users by email of changes to this Privacy Policy.
Complaints
If you have any complaints about how we process your personal data, please contact us through the contact methods listed in the Contact Information section so that we can, where possible, resolve the issue. If you feel we have not addressed your concern in a satisfactory manner you may contact a supervisory authority. You also have the right to directly make a complaint to a supervisory authority. You can lodge a complaint with a supervisory authority by contacting jared.austin1981@gmail.com _____________________________________________________________________________.
Contact Information
If you have any questions, concerns or complaints, you can contact jared.austin1981@gmail.com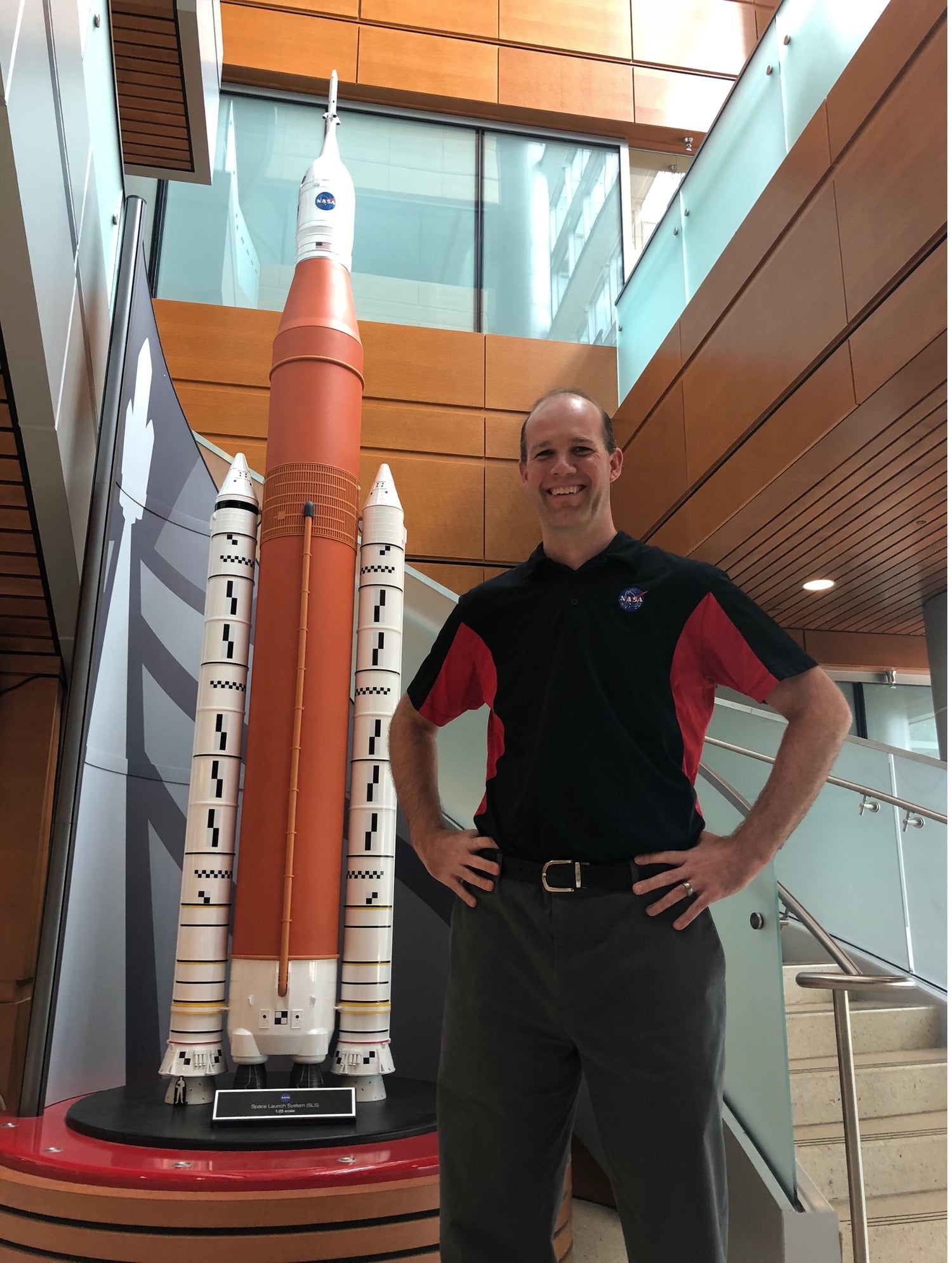 Jared Austin is a young adult science fiction author who lives in the Rocket City -- Huntsville, Alabama. In Space City and the books in the series to follow, he hopes to show and inspire his daughter and son, as well as all of his readers, that science and technology are not dull subjects, but gateways to a brighter, exciting future.
Frequently Asked Questions
1) What made you want to become a writer?
I first decided I wanted to become an author right after high school. I was getting ready to apply to college and wasn't surewhat I wanted to study. I knew I loved to read. That led to the conclusion "Why not write?"
I was so naïve about what that really meant.
Along the way, taking creative writing courses in college, attending writing workshops, and tinkering away on various projects, I learned how much I really loved creating stories. I loved pushing myself to get better so I could create the stories people will enjoy.
2) Where do you get your story ideas?
Everywhere. Sometimes while reading a book or watching a movie or tv show, some little bit of it gives me an idea for a story or part of a story, usually taking the idea in a new direction that excites me. I also
like to read science and technology magazines such as Scientific American or non-fiction books in a variety of subjects that give me inspiration for my novels. Occasionally life just hits you with ideas.
I try to be open to inspiration everywhere.
3) Why do you write YA SciFi?
To entertain and inspire young teens. When I was growing up, I often found science to be rather dull in school. My classes largely required me to memorize facts that held little interest and I couldn't understand the benefits. It was only as an adult that I learned all the really cool ways in which science and technology improves the world around us and enriches our lives.
One of my drivers in writing is to show how cool science can be within a story that is highly entertaining and fun.
4) What's special about Space City?
Space City is meant to be a space exploration story that is exciting. A cool city/ship in space designed to look like Earth for those living on it, but with aliens and so many other wonders. The books are filled with adventure and humor to keep you turning the page, all the while weaving in the latest advancements in science and technology to both bring the world to life, and provide tools for which Neil Ericson and his friends can overcome the many obstacles they face.
5) When does the next book come out?
Contact Not Found, the 4th book in the Space City series, is planned for release in the Fall 2022. Like Escape, Contact Not Found is a collection of short stories featuring some of the other characters found in the Space City novels.
6) What are you writing now?
Space City #5, title TBD, has a completed first draft. I have a lot of revisions to go for that to be ready for publication, but tentatively I'm hoping to release it in 2023. I will provide more information as I progress through it.
7) How many books will there be in the Space City series?
For the main novels, Neil's and Riagan's story, the plan is four books. Then for the collections of short stories, there will be at least two (Escape and Contact Not Found). I know there is at least one more short story or novella that I need to write before the concluding the series.
Author Fun Facts
I read Everything

I jump around genres all the time. I read tons of fantasy as a teen, and still do here and there. I read a lot of SciFi, particularly in YA. But I also enjoy thrillers/suspense, crime fiction, horror, and non-fiction.

I Love Video Games

I have always been a big Nintendo fan. Zelda is my favorite video game franchise and Zelda BOTW is THE best game. I've played a ton of Mario and Donkey Kong games over the years. I also really enjoy Final Fantasy 7 (original is best, but first remake is pretty cool) and Final Fantasy 8, as well as Last of Us, Ratchet & Clank, and Tomb Raider.

My Favorite Foods

Spaghetti. I love pasta and I love to cook my own spaghetti. I also love to grill, make my own bread, and I'm the baker in our family. Learned the skill from my mother growing up. I find it very rewarding to prepare food with my own hands and see people's enjoyment of it.

I'm an Avid Runner

It's my favorite way to stay in shape. I've run around the neighborhood of each place I've lived for years. It's fun to be outside, especially early in the morning not long after the sun has risen. Its peaceful. The longest I've run is a half marathon.

I'm a HUGE Football Fan, and Sports in General

I grew up watching and playing sports. Baseball was always
my favorite sport growing up and I was a pitcher. Now I watch a lot of
football. I'm a graduate of the University of Alabama, so I am a big Crimson Tide fan. I also like the Dallas Cowboys and Miami Dolphins.